Our outdoor fitness equipment NZ at GymGuru enables the vitality of exercising in an open-air environment to go hand in hand with the tailored and targeted workout that is normally achieved in an indoor gym.
Other outdoor gym equipment companies provide products with a fixed resistance. Unlike these suppliers, at GymGuru we operate by the ethos of "taking walls off gyms." Our outdoor gym equipment provides variable resistance to suit all fitness needs.
Anyone using our equipment can easily self-define their workout, regardless of their physical condition. Providing a range of resistance fulfils the needs of people with all abilities, thereby allowing outdoor workouts to go to the next level.
We provide outdoor gym exercise equipment in public parks NZ
Our products target the four key areas of exercise:
GYMGURU COMES WITH A TEN YEAR WARRANTY ON ALL NON MOVING PARTS AND THREE YEARS ON MOVING PARTS – NOT THAT WE THINK YOU'LL NEED IT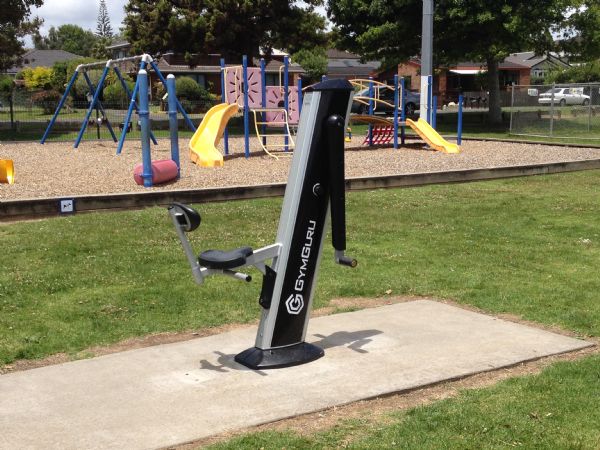 Cardio: Improving cardiovascular fitness improves the body's efficiency at consuming oxygen and the strength of the heart, lungs, and organs.
Strength: Training muscles to exert force against resistance will improve bone density, immunity, injury prevention, and weight management.
Flexibility: Enabling joints to move through their full range of motion assists a fuller, pain-free range of movement.
Balance: The ability to maintain equilibrium against gravity increases coordination, awareness, and bodily control.
Anyone using GymGuru equipment will improve their muscular strength, endurance, and overall cardiovascular health and fitness.
Read on to find out what benefits our fitness equipment NZ provides.
Seated overhead press
Our seated overhead press is an effective machine for improving strength in the upper body and core.
Elliptical cross trainer
Users can enjoy an impact-free cardiovascular workout, ideal for anyone with hip or knee issues. The elliptical cross-trainer improves strength, agility, cardiovascular fitness, and endurance.
Seated leg press
The seated leg press is another excellent piece of gym equipment for improving muscular strength, targeting the lower body and the core.
Hip flexibility swing
This piece of fitness equipment NZ is excellent for improving flexibility in the hip adductors, groin, and outer hips.
Shoulder grinder
The physically demanding shoulder grinder improves strength throughout the whole body, especially the upper body, and cardiovascular fitness.
Stationary bike
Our non-impact stationary bike is excellent at improving cardiovascular fitness and muscular strength, especially in the legs.
Recumbent bike
The recumbent bike is an all-around exercise, improving cardiovascular fitness along with strength in the quads, hamstrings, glutes, and calves.
Lateral pull-down
The lateral pull-down builds strength in the upper body, including the biceps, middle back, and shoulders.
Combination core strength and stretch bench
This bench facilitates both core strengthening exercises and muscle stretches.
Combination overhead press and lateral pull-down
Offering dual-resistance movement, this machine targets the muscles in the upper body, core, and back.
Combination wheelchair press, bicep curl, and squat
This machine allows wheelchair users to work their upper body muscles and biceps. People who don't use wheelchairs can also use this press to facilitate their squat exercises.
Why use outdoor fitness equipment NZ
At GymGuru, we have invested heavily in research to address the needs and surpass the pain points of the outdoor gym equipment market. One of the main issues that we found was that most outdoor fitness stations only have fixed resistance equipment. With the help of specialist engineers, we have been able to create products that change the game.
Not only do our products have variable resistance, everything we provide at GymGuru is guaranteed to be of the highest quality. We maximize longevity and safety while minimizing maintenance.
We use innovative technology that is safe for users of all abilities, strengths, and body types to use. Each of our designs gets independently screened to ensure we are meeting the highest of standards. Our equipment is also extremely durable, as we designed it with outdoor settings in mind.
At GymGuru, we recognize that our communities thrive on outdoor activities. Research has well-established how sports and recreation help unite and strengthen communities. We love to foster pride in communities, allowing people to get healthy and gain a sense of belonging wherever they are.
Our fitness equipment NZ targets cardio, strength, flexibility, and balance, thereby providing an accessible, well-rounded workout to Kiwi communities. Exercising is not just good for the body but also for the mind and the soul. Part of who we are is our connection to the land.
We aim to achieve the best possible social, mental, spiritual, and physical well-being for NZ communities by making a healthy and balanced lifestyle available to everyone. With a strong philosophy on place-making, we place value and respect on public community spaces. Connecting communities with their environment will enhance their well-being.
Outdoor health stations make communities better. To help your Kiwi community thrive, contact us at GymGuru today!