Everyone knows that if you want to keep your body fit and healthy, you should try to be active and get some exercise every day, save for well-earned rest days of course. But sometimes, even if we know it'll be good for us, it's hard to get up and get out for some exercise. Luckily, with a great stationary bike, you don't have to go outside because you'll be able to get some fulfilling exercise from one place.
But, buying a new piece of exercise equipment is a commitment; how do you know that these bikes are worth it? Whenever you buy any new fitness or sports equipment, you will need to pay for it and its shipping, find a place to put it and then set it up and learn how to use it. So, it's vital that you make the right choice when buying equipment.
In this article, we will teach you all about how wonderful exercise bikes can be.
Why Should I Use An Exercise Bike For My Workouts?
Stationary bikes, also known as exercise bikes, are pieces of equipment that are designed to be like regular bicycles, but you remain stationary as you use them. This kind of equipment is very popular, so you've probably seen a few models if you've been to the gym.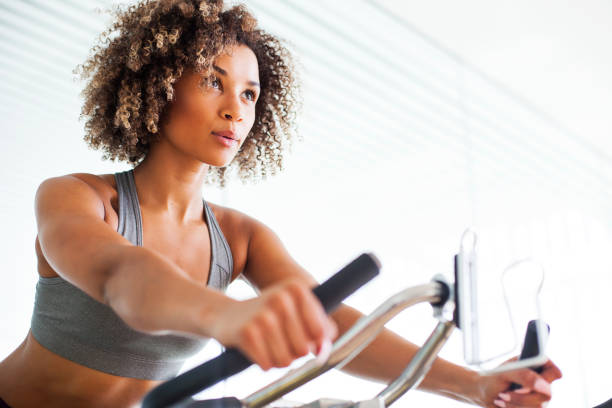 Although when you see them, you might wonder, 'aren't those just like regular bicycles? Why shouldn't I just get a normal bike?' While exercise bikes do allow you to get the same kind of workout as a standard bike, they have some specific advantages over regular bicycles that you should know about if you're thinking about getting one.
Stationary bikes have heaps of fantastic benefits that anyone can enjoy because they are easy to use for both beginners and fitness pros. Some notable perks of exercise bikes are as follows:
They're Easy To Use. As mentioned, exercise bikes are easy to use; in fact, it's just like riding a bike. Therefore, they're very useful no matter what level of workout you're looking for. For example, if you want a casual session where you can go at your own pace and get lost in your music, you can easily hop on and do what you want to do. Or conversely, if you're going to push yourself and do an intense session of high-energy exercise, you are free to jump on and see how well you can do.
They're Great For Cardio Workouts. Cardio is a great way to tone your body, build muscle and burn some excess fat. With a stationary bike, you can efficiently work out your legs and lower muscles with this one convenient piece of equipment.
They Build Your Endurance. If you have never used a great exercise bike before or are not used to long workouts in general, your first time with an exercise bike may wear you out rather quickly. But, it would be best if you tried to not let this discourage you because exercise bicycles are a fantastic way to build your endurance and stamina. Your first session may not be very long, but chances are your second will be a little longer, and your third even longer.
Before you know it, you'll be able to hop on a bike and happily pedal for much longer than you'd thought you'd be able to. Furthermore, this built-up strength can also help you stay on your feet longer when you're doing other activities.
They're Safer Than Regular Bikes. Although heading out for a nice bike ride can be fun, they do involve a lot of work and a handful of risks. Planning a bike ride involves coming up with a route, making sure you're hydrated and have enough energy, getting the right gear and then actually being safe on your ride itself.
But, with a stationary bike, you don't need to worry about most of that. While you should still stay hydrated and eat right so your body has energy, you can stay much safer on your excellent exercise bike. As you work out on your exercise bike, you won't need to worry about crashing into things or taking a wrong turn because you won't be moving around.
Where Can I Find Exercise Equipment That Is Fun And Safe To Use?
Exercise can be even more rewarding and accessible when you use excellent equipment from our store at GymGuru. We are thrilled to provide New Zealanders with outstanding equipment that will help people of all ages and capabilities stay fit and healthy. Our stationary bikes are easy to use, adjustable and great for people who are looking for a good cardio workout.
Or, if you would like to look into other kinds of equipment, we have plenty of alternative options available as well. We have many different kinds of fitness equipment for all sorts of workouts, so no matter what kind of workout you enjoy, you will surely love our equipment!
All of our products are designed with usefulness and safety in mind, so you can feel good when you use them. You can conveniently reach us at 0800 483 6647 for more information on our products.
Workout at your own pace with an excellent stationary bike from GymGuru!